Choose The Perfect Outdoor LED Display Screen
As we step into the feature, Technology plays a crucial role. We develop and Manufacture smart LED boards for communication, entertainment, and promotional purpose. Our range is known for effectively meeting the business promotion demand of various industries. There are lots of features are available in our LED boards that allow a user to play various video signals, switching to a different source at any time just at your fingertips.
Information that has to be made available to a large number of people in a short time requires an appropriate and suitable medium, such as an LED scrolling text, LED video wall, or LED large display. As a developer, manufacturer, and dealer of electronic information and display systems certified according to ISO9001:2008, we are the ideal partner in this field and can look back on years of industry experience
Typical Viewing Distance
At PixelDiode, We offer P10, P8, P6, P5, P4.8 SMD Outdoor Screen and P4, P3, P2.5 SMD Indoor Led Display. Nowadays LED Outdoor display is becoming more popular, the best solution for a wide variety of outdoor advertisements solution. Most of the Advertisement Company is now buying LED Display as it is the most energy-efficient and they have the longest lifespan compare to the other nearest competing technology. These LED Displays produce high-quality Pictures with a wide range of characteristics. They are Large, sleek design and steady-state light. The best example of high quality LED outdoors Display in parking lots, Railway Station, Shopping malls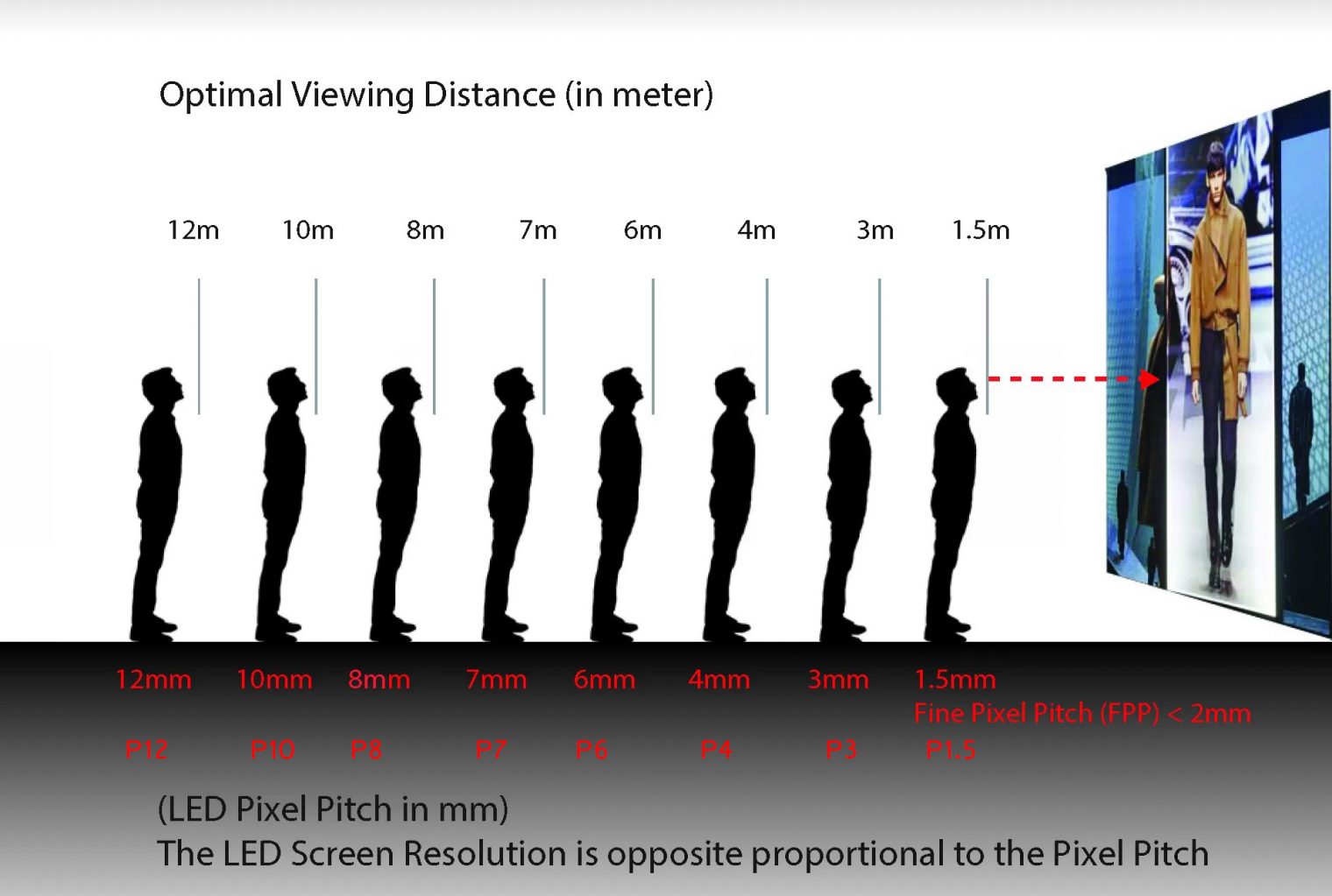 Pixel Pitches Of Outdoor Led Video Wall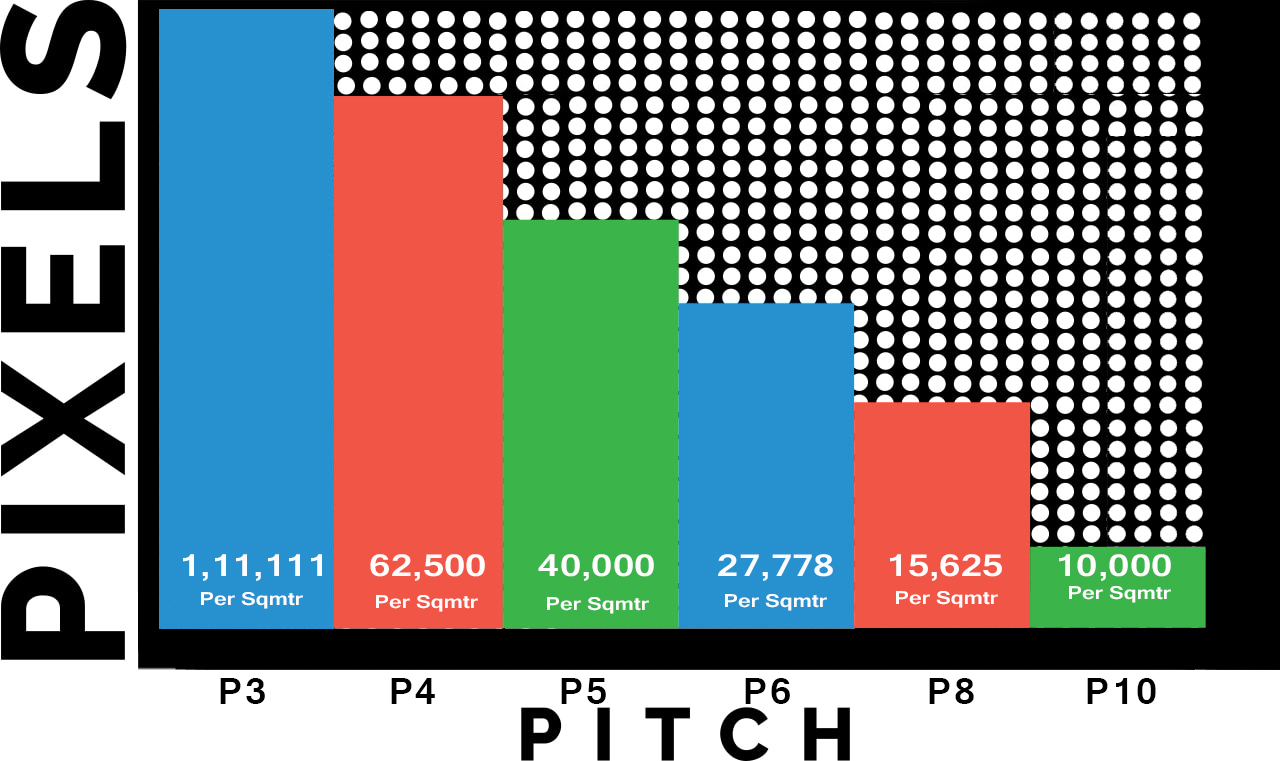 Pixel Pitch is an important factor to consider when making a choice between an LED display or similar technology. The pixel Pitch is the approximate average between the centers of each pixel on the LED display. Nearby centers are measured in millimetres.
Pixel Pitch can be identified by many other words, including dot Pitch, line Pitch, phosphor Pitch, or line Pitch. All terms refer to the same sense of space between a pixel matrix.
The standard pixels are pixels per inch (PPI), which specifies how many pixels can be found in a straight or square meter of an LED device.
A small pixel Pitch means that there is a small space expressed in pixels between adjacent pixels, and it corresponds to a higher resolution; In contrast, small pixels per inch of value correspond to a low resolution, as low PPI refers to the density of pixels.
Indoor / outdoor screens usually use LED displays with pixels in the range of 2.5mm to 10mm. In the store or office, the 4mm pixel pitch is generally considered appropriate, as most viewers will be very close to their screens. Similarly, airport signals often use pixel pitches from 5mm to 6mm, as these very small screens can be viewed from near passengers. In store windows, LED displays usually have pixels of up to 10mm, as people will be looking at these signs across the street or below the block. People close to the store will already have received the signal message, so the proximity solution is not important here.
There are 4 key factors to consider when choosing the right pixel Pitch for an LED video
Board size. If you know the desired size of your LED board, you can go back from this scale to the full pixel density. On a rectangular board with a shorter vertical width than a horizontal size,a general rule of thumb to achieve a standard resolution of 1920 x 1080 is to divide your horizontal dimension (in feet) by 6.3 to get your pixel pitch (in mm)
The LED screen is a good viewing distance. If you know the desired viewing distance of your LED board – for example, the distance to the bulletin board on the highway to find your correct pixel (mm) Pitch.you can simply divide your desired viewing distance (feet) by 8

LED screen adjustment. As mentioned earlier, if you need high resolution, you will need a small pixel pitch. Similarly, if you are right with a lower resolution, you can use a larger pixel pitch.

Your budget. It is important that you consider which pixel pitch is appropriate for your application given the resources you have. A high pixel pitch outside your price range is not a useful thing you may not know, so always think about your budget when choosing a pixel pitch.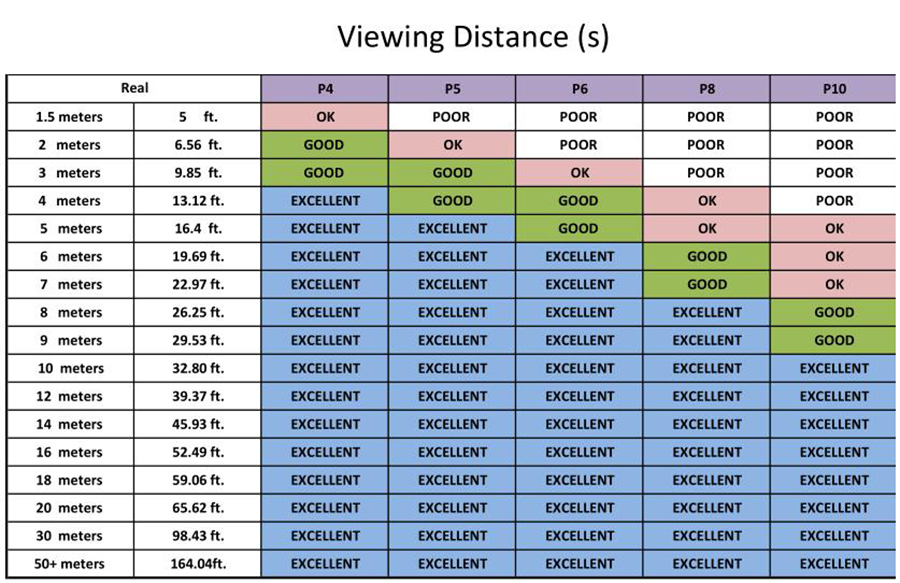 To attract the most of the visitor to the congregation LED lights to play a vital role in that, LED walls can attract attention and increase interaction while serving to reinforce your message. We can engage these LED board for different purposes to capture the attention of your congregation is one of the most important ways to create the impactful and memorable worship of all time. What are you doing in a different way to create that experience?

LED produce the brightest light than the other light which is used in video display technology, and it usually required half of the power. The best thing about the LED's are their lifespan, it can last up to 50,00 hours and consume a very little amount of electricity which helps to save a large amount of money. Replace your old video displays with LED displays which are affordable, efficient and effective.

LED display provides the freedom to reconfigure your message as much as you want to fit your message. At PicelDiode we produce large-format LED display in a variety of resolution, providing clear and detailed image display. These LED displays are very easy to use and maintained with low cost of a budget. We create awesome LED display's that capture the eye of the people who are passing by and helps project your message in an unforgettable way.

At PixelDiode our technical staff will take care of all the stuff that needs to be done and we understand every need of our customer. That's why we offer 24/7 Technical help, a —-12 months product service warranty, and contract options with everyone in every of our LED display merchandise. Our services are spread all over India and you can seek our help either by contacting us or you can leave a message on our company mail id.